Greeley, Colorado's Trusted Dentist
Creating the Smile You've Always Wanted
A perfect choice to be your
dental healthcare provider!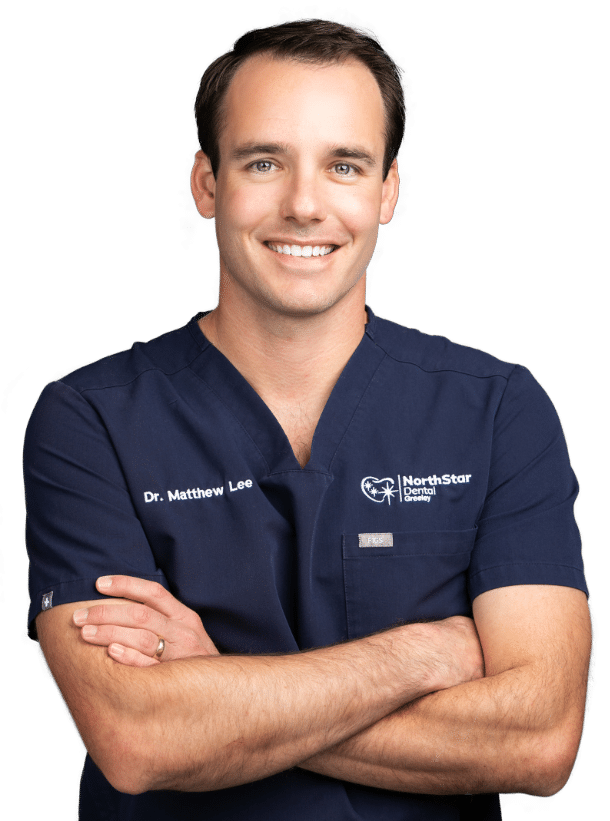 NOTE: We do not accept Medicaid.
No Insurance? No Problem!
Learn about our in-house plan.
Your Trusted Greeley Dentist
---
Meet Dr. Matthew Lee
I fell in love with Colorado's mountains on vacations as a child, but finally had a chance to live in this beautiful state during my training at the US Air Force Academy in Colorado Springs where I completed an Advanced General Dentistry residency. My wife and I love exploring the outdoors, skiing, hiking, walking our dog, and doing all things Colorado. We knew one day we would move here for good, and here we are!

My extensive leadership and clinical dentistry experience in the US Air Force, my advanced training at the prestigious US Air Force Academy, and my overall compassionate and welcoming personality make my team and me at NorthStar Dental a perfect choice to be your dental healthcare provider!
Our Areas of Expertise
Our Services
At NorthStar Dental, we respect you and your family's wants, needs, and desires in developing and executing a dental health treatment plan that is perfect for you and your life, no matter where you are now.
Our Client Reviews
Hear from our Patients

I was pleased to see Dr. Matthew Lee treat his technician with the same respect and courtesy he afforded me, the patient. I admire the professionalism and kindness and can attest that it significantly improved my overall experience. Thank you.

Dr. Matthew Lee and his team are by far the best. I have a thing about the dental chair but this team always eases my fears and makes me feel important and not too silly about my anxiety. Thank you for the great care!

Dr. Matthew Lee was absolutely great. Explained everything in detail to me and listened to my concerns. I usually hate the dentist but this was a surprisingly good visit.
How is NorthStar Dental Clinic Different?
Why Choose Us
Our Three Guiding Lights (Integrity, Compassion, and Excellence) serve as an anchor point for how seriously we take you and your family's autonomy in crafting an outcome you desire.
Integrity
Our word is our bond.
You deserve a dental team you can trust. When you visit NorthStar Dental, we take that responsibility seriously whether you're new to our office or a long time friend. Our entire team is dedicated to spending the time to have open and honest conversations about your dental desires with no secrets or surprises.
Compassion
Your dental health advocate.
You want a dental team that strives to create a comfortable and painless experience. We honor your desires and work hard to help you achieve the ideal vision of your dental health goals with your comfort in mind.
Excellence
Highly skilled team members.
You expect the best care possible, and we couldn't agree more. Our team stays up to date with Continuing Education courses and competency in the latest technology. This ensures you receive high quality and long lasting treatment.